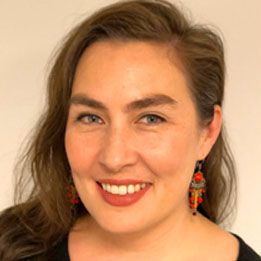 Christine A. Pérez
Manager, Artist and Community Partnerships
Christine is a native of Woodstock, Illinois, aka Punxsutawney, PA, from Harold Ramis' film Groundhog Day. Like a moth to a flame, she flocked to the big city lights to be closer to Chicago's immense Arts and Culture offerings.
She's passionate about traveling and exploring the cultural diversity of the Art, music and culinary scenes of neighborhoods in Chicago and around the world.
In her free time, Christine enjoys cycling around the city attending street festivals, concerts, films and thrift shopping. She's a maker at heart and loves salvaging items to create accessories and home goods from vintage fabric, wood and metal.
For the last 10 years, Christine has freelanced in many areas of Commercial / TV production, film festival programming and live event management.
She has worked for numerous networks as a Producer, Casting Associate and Talent Manager including NBC, FOX, VH1, The Travel Channel and The Food Network. From 2009-2012 she worked the film festival circuit between Sundance, SXSW, The Chicago International and The Chicago Latino Film Festivals.
Ms. Pérez holds a B.A from the University of Illinois at Chicago in Communications and a Minor in Spanish. She also studied Media and Politics in London, England through Syracuse University.