Partnership Opportunities
Latino arts organizations make significant cultural and economic contributions to the city of Chicago. They present culturally savvy productions to their communities as well as to the greater Chicago area. Latino theater adds to Chicago's rich cultural reputation and augments its well-deserved notoriety for being the most exciting theater city in the country.
Latino Market Facts
The $1.3 trillion US Latino market is larger than the entire economies of all but 13 countries in the world. Wow.
And it's set to grow by 50 percent in the next five years!
The Chicago Greater Metropolitan Area (DMA) has over 1.9 million Latinos that comprises 28% of the city total population with a purchasing power of 65 billion+ of disposable income and growing.
The Selig Center for Economic Growth predicts that by 2019, Latinos will account for 10.6 percent of the total US buying power. Millennials make up 26 percent of the Latino population, compared to 22 percent for the US population. Economic research suggests that the youthful demographic profile of the Latino population enhances productivity and increases growth in per capita incomes.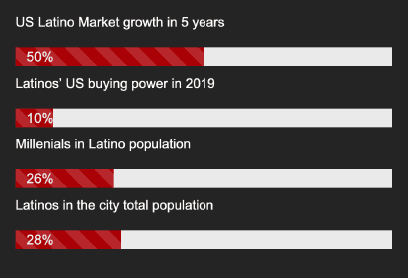 Opportunity
Latinos are by far are brand-loyal consumers. The theater festival is an ideal platform that offers companies cultural relevancy to brand their goods and services, while strengthening and embracing culture through community engagement.
The theater festival provides different levels of sponsorship to ensure maximum exposure through a robust advertising/ promotional /online campaigns, that will strategically maximize sponsors visibility with our patrons and ensure a return on their investment.
Our Sponsors are helping us address the urgent need to support Latino artists in Chicago's theater scene.
We work towards showcasing the best of existing and new thought provoking Latino playwrights and excellent Latino actors and directors in Chicago.
Chicago Latino Theater Alliance provides Partners with a unique opportunity to help preserve and promote cultural heritage of some of the best works of established and emerging Latino playwrights.
CLATA is supported by